RF (radio frequency) microneedling and fractionated laser resurfacing (AKA laser treatment) are two of the most popular treatments that are available for providing tighter, more youthful looking skin that's free of lines and wrinkles. Both treatments can also be used to reduce the appearance of scarring.
If you're not entirely sure which treatment is best for you, then you should find the information below extremely useful.
Laser treatment
Laser treatment is able to target the skin on a deep level and is used to rejuvenate the skin and treat a number of common skin issues, including sun spots, acne, scarring and wrinkles. Laser treatment is also used to get rid of unwanted hair on the face and body.
Laser treatment works by penetrating the skin and heating the tissue, causing the body to produce more collagen and therefore providing better skin tone and texture to the treated area.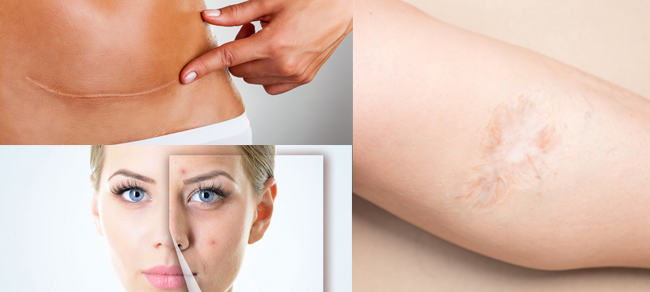 The benefits of lasers for cosmetic treatments
Lasers are commonly utilized for a wide variety of cosmetic treatments and are an extremely effective way to treat unwanted hair, stretchmarks, wrinkles and varicose veins.
Some people can be put off the idea of laser treatment, often assuming it's dangerous and/or painful. The truth is that laser cosmetic treatments are extremely safe and have been used to treat common skin problems for years.
RF microneedling
One of the biggest benefits of RF microneedling over laser treatment is that because the protective epidermis left intact, there is considerably less chance of scarring and infection.
RF microneedling can also be used to treat any type of skin and can typically be used to treat a greater number of skin conditions when compared to laser treatment as a result. RF microneedling is generally better tolerated by most patients too. Although a topical numbing agent is used for both microneedling and laser treatment, the majority of patients find the pain associated with microneedling to be much more tolerable.
The latest in anti-aging facial rejuvenation. Microneedling is a technique in which multiple, tiny micro-needles are vertically applied to the skin. This controlled "damage" to the skin harnesses the body's own injury response to rejuvenate and repair the skin through the proven science of collagen stimulation.
Which is right for me?
Both RF microneedling and Laser treatment are excellent ways of improving the appearance of the skin. Which is best for you will depend on your skin type and what exactly it is you want to achieve. We can fully advise you which treatment would be most suitable for you so don't worry if you're not fully decided.
Find out more
To find out more about RF microneedling and laser treatment, get in touch and we can answer all of your questions. If you'd like to book a treatment session then simply contact us and we can book one at a time that's convenient for you.