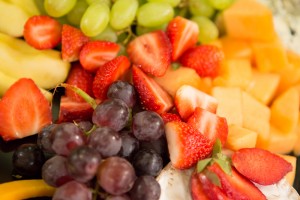 Great looking skin is down to a mixture of genetics, diet and lifestyle. There isn't anything you can do about your genetics but there are certainly diet and lifestyle changes you can make in order to keep your skin looking healthy.
As far as lifestyle goes – you'll want to avoid the sun or at least wear strong sunscreen. It's also advisable to avoid using any harsh chemicals on your skin that can dry it out.
Diet is crucially important for good skin. With this in mind, below are five simple changes you can make for great looking skin.
1. Drink more water
One of the best changes you can make to your diet for healthier skin is to drink more water. Water is essential for life so it's no surprise that it's also a requirement for healthy and glowing skin. When you're dehydrated your skin will look rough and colorless so always you should always make sure you drink enough every day.
2. Eat Greek yogurt 
If you want to prevent the appearance of wrinkles then Greek yogurt is a great food to eat, especially when topped with fruit such as blueberries or pomegranates. The reason Greek yogurt is so good for your skin is due to its protein content, which is often twice the amount you'd find in regular yogurt.
3. Eat foods high in omega-3
Omega-3 is great for improving your skin's elasticity. Unfortunately a lot of people in the western world are lacking omega-3 fatty acids in their diet. If you want to up your omega-3 intake then there are many excellent supplements on the market. Alternatively sardines and walnuts are two excellent sources of omega-3.
4. Switch to green tea
Green tea contains antioxidants, which improve blood flow and supply more oxygen to your skin. A study from 2011 showed that people who drank it for 12 weeks had significantly less sun damage when exposed to UV light as well as smoother and more elastic skin.
5. Cut out dairy
Another great tip for healthier skin is to cut out diary. Dairy is inflammatory, which makes it the enemy of people prone to acne and skin rashes. Dairy is found in so many meals so it can be tough to cut out but with some creativity you'll find that it isn't as hard as you might think.
For example if you like milk, as most people do, then an excellent dairy-free alternative is almond milk. Almond milk tastes great, is available in most supermarkets and most importantly is great for your skin.